HIDDEN PLACES YOU SHOULD VISIT IN MEXICO
OAXACA
1 – Hierve el agua
Hierve el agua is a specific geologic rocks formation in Oaxaca. There are two cliffs which are extended rock formation which look like waterfalls. The system of formation of this process is the same that shapes stalactites.
Besides that, you also can enjoy a beautiful view on the valley. You can also enjoy two pools, one natural and one artificial. There are also many springs that bubbles up across the site.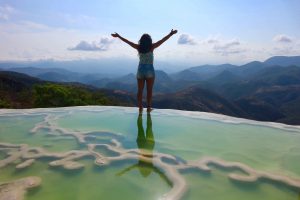 CHIAPAS
2 – Cascadas de Agua Azul:
Agua Azul waterfalls are formed by the affluent of three rivers (Otulun, Shumulja, and Tulija). The water colour is due to little particles that fall from the rocks and go in the water. Around the site you can find many craftsman who sell their art to live in this region. There are different waterfalls, some bigger than others.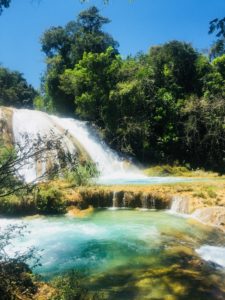 QUINTANA-ROO
3 – Isla Mujeres:
You can go to this island by taking a boat in Cancun. The price isn't expensive for what you are going to see. You can go just for one day or you can rent a flat and stay there for a few days. On the island you will see beautiful beach of white sand, Mayan ruins, you can do snorkelling, you can walk around the island all day enjoying the beautiful landscapes.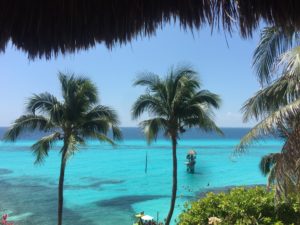 4 – La reserva de Sian Ka'an:
This is a biosphere that you can visit with or without a guide. This biosphere is located on the Mayan river and is classified at the UNESCO World Heritage. You can visit it beginning at the Muyil site with Mayan ruins where you will also observe a beautiful fauna and flora. The water colour is incredible and the changing landscape between jungle and mangrove too. You can swim for a while in the canals, go through the jungle, and take a boat ride to observe animals and amazing and beautiful panorama.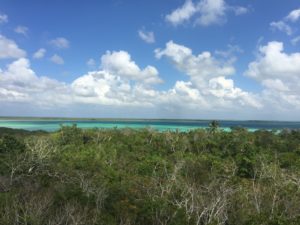 BAJA CALIFORNIA SUR
5 – Playa Balandra:
If you are going to Baja California Sur, you need to go to this beach. It's a quiet beach with blue turquoise water that will blow your mind. You can enjoy a natural place with a rich ecosystem.
YUCATAN
6 – Cenotes Azul:
This is one of the most beautiful hidden places in Yucatan: Cenote Azul. Cenotes are a geologic natural formation due to rock erosion. It's an open cenote which is a natural source of freshwater. You can enjoy to swim in the turquoise water.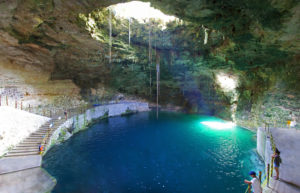 CHIHUAHUA
7 – Barrancas del Cobre :
You can cross the Barrancas with El Chepe, it's a train that cross the Barrancas making stops to let you visit the beautiful natural site. You can also stop within the Barrancas and pass the night there. There are a lot of activities you can do. Tyrolean, strong feeling sports and hiking. En total there are 7 Barrancas with 4 famous ones. There are still some communities who live there, away from big cities.
8 – Valle de los Monjes:
There you will discover a very quiet valley of incredible rock formations. Located at 15 km away from the city of Chihuahua, you will find here a natural sanctuary. You will remain speechless seeing the site. With the different rock shaped throughout the time you can imagine a lot of different story.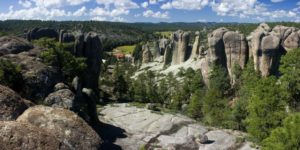 HIDALGO
9 – Cascada de Santa Maria Regla
With a trickle of water dropping under hundreds of rocky columns in forms of hexagon or heptagon. There are tall columns of basalt rock that decorate walls of the Barranca of Santa Maria Regla. These polygonal rocks were created by lava.
If you love travelling and find hidden places you will also love this articule: https://www.conexionmexico.com.mx/lugares-para-viajar-con-amigos-en-mexico/