Please find bellow my reasons why I have enjoyed this festival more than any other:
1) Day-1 party and bus trip
Conexion did a great job and the party started the moment the bus started to move and 50 exchange students were exposed to more than enough bottles of tequila. So, can you imagine a better beginning of the festival? The bus trip itself took a long time and I can say that it was a perfect ice breaker, especially when your friends were not in good moods and you needed to cuddle them or feed them to make their trip more comfortable. Or when somebody started to sing "Let it go" in the middle of the night when we had all been freezing and suddenly the whole bus joined at the "cold never bothered me anyway" part… Little things, but that's what great moments are consisting of.
2) Islas Marietas
The first morning came really quickly and we approached the "village even Google won't find" where we got on the small boats. That's when the miracles started to happen. Not only have hangovers immediately disappeared, but after some minutes on the boat we saw whales. WHALES!!! Those majestic creatures that I thought only existed on The Discovery Channel are suddenly right in front of our eyes jumping in the air. In addition, just when we thought it couldn't get any better, we were faced with the Islas Marieta's beach: one of the most exotic beaches in the world!
3) Festival Location
Later that day we finally arrived at the festival destination, which can only be described by one word: paradise. Camping zone, pool, main stage, beach and ocean in this order were in less than 200 meters distance. No walking, everything together. Palms, sand, sun and sea salt in the air. A little paradise.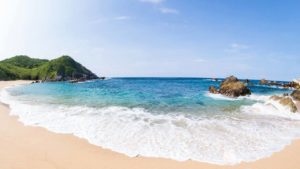 4) People
This festival consisted of mostly exchange students from all around the world and from almost all university campuses. At the beginning we knew around 50 students, mostly from our own campus. At the end of the festival we knew almost everybody! Obviously, when more than 900 students in the same age meet together on a virgin place like this, magical things start to happen.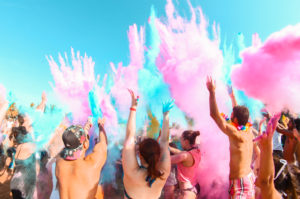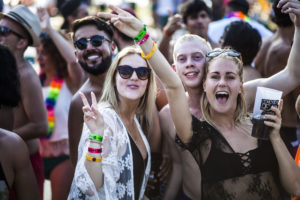 5) Open Bar
Now let's talk about other festivals. Never-ending lines for bathrooms and food stalls, elbowing your way between people and waiting dozens of minutes to get yourself a beer… sounds familiar, right? Well, not here! You just came to a bar, decided what kind of drink you wanted and before you were able to finish your order you already had the drink(s) in your hands so you would not miss any second of the party! No money, no queuing, perfect organization.
6) No phones needed!
When you lose your friends at a medium or big-sized festival, you usually need to find some quiet place and make dozens of calls before somebody picks up their phone and then it takes minutes until you find each other. Familiar? Again, this could not have happened at Conexion Beach Festival. Not only we did not have any signal, but our friends were everywhere. Again, no wasting time searching for your friends. They were right there, everywhere.
7) Party
This was the first festival in my whole life where I was not looking at the clock most of the time just to be sure that I would not miss any of my favorite acts. Maybe there weren't the best DJ-s in the world, but we didn't care! Every performer did a great job and the party was on all the time. No breaks between performances, just one huge continuous party with the great finale of Jacob's Plant performance. Just perfect!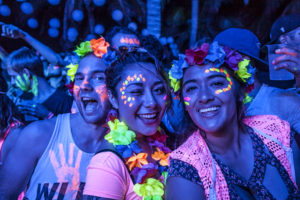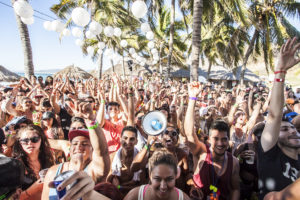 8) Sponsors
Corona Light, Tinder, Red Bull, Don Roberto and many more! I finally felt like a young important consumer that these companies care about when I couldn't decide whether those cute Red Bull girls were constantly following me or when I couldn't count the countless Don Roberto tequila bottles in the air.
9) All the little moments
Like when countless of people were hit by waves so the others could laugh their asses off, when that half naked girl was doing yoga on the beach , when you could not enter your tent because your mate had some passionate tantric session inside, the romantic lampion release with a amazing girl…We all have some of those…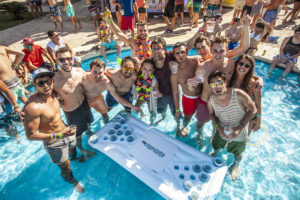 10) Once in the lifetime
And finally, for most of us this has happened only once in our lifetimes! All the big and crazy festivals happen every year and they can wait. But how often can you be an exchange student im Mexico and come to such an amazing party? This was definitely a once in a lifetime experience and hence I consider Conexion Beach Festival to be the best festival of my life so far!
Want to know how to go for free at this amazing festival, check this out: https://www.conexionmexico.com.mx/best-way-make-extra-money-studying-in-mexico/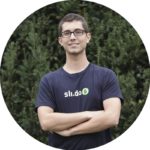 By Martin Mornar