The 6 best hidden beaches in Mexico
.
.
In this article we are going to introduce you to the best hidden beaches in Mexico. Enjoy these secret paradisiacal places!
.
With 11 kilometers of virgin beach it's the perfect place to disconnect you from reality and forget about everything. This place is without a doubt one of the best hidden beach in Mexico!
At this hidden beach you will find the Sea Turtle Protection Camp which is in charge of the care and protection of this species. Participate to turtle release at the Hidden Beach Festival!
Hidden Beach Festival is one of the best beach festival that takes place at this incredible beach twice a year (in August and January)!
This ecological reserve is located in the municipality of Cabo Corrientes, 40 km from the Tuito municipal road in the state of Jalisco, Mexico.
.
.
.
Relax and enjoy the beauties that nature gives you! Cocinas beach it's the perfect combination of crystal-clear water and white sand.
Cocinas Island is a small island located in Punta Perula (Jalisco), just 2 hours drive from Puerto Vallarta, getting there is very easy and economical. Once you arrive at the beaches of Punta Perula, you board a boat and in approximately 20 minutes you will be able to step on this small paradise!
.
.
.
White sand, crystalline waters surrounded by mountains, Balandra beach is emblematic and considered by many as a natural pool. So this is a place not to be missed!
Very easy to access, Balandra beach is only half an hour by car from La Paz (capital of Baja California).
.
.
.
4. Mahahual Beach, Quintana Roo
Mahahual is the heart of the Costa Maya.
It's a great place to do scuba diving! Divers will find a marvel of coral formations, sponges, sea turtles, dolphins, seahorses, manatees, and thousands of coral fish.
This amazing beach is located on the Caribbean coast, 140 km northeast of Chetumal and 348 km south of Cancun.
.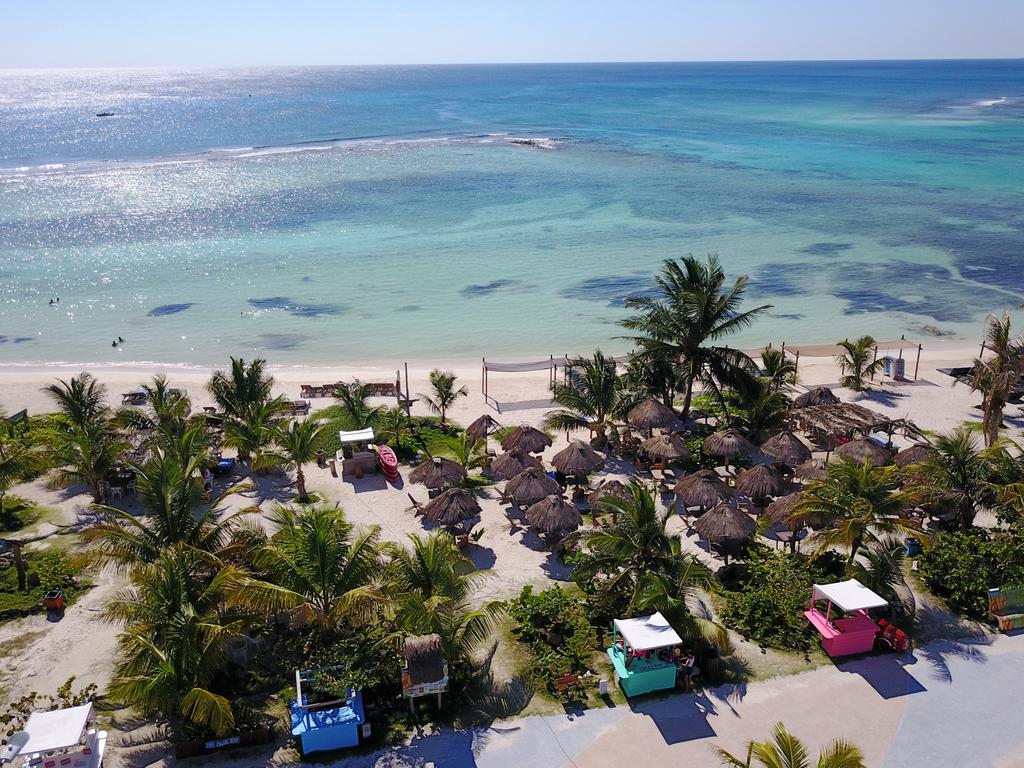 .
.
Secreto Beach is considered the most virgin land in the Mexican Southeast.
Playa del Secreto maintains its natural essence, with very few buildings and also little influx of tourists. The place is perfect for those who like to rest, for instance.
The access to this small paradise is on the Cancun-Tulum highway, on the stretch from Puerto Morelos to Playa del Carmen.
.
.
.
6. Carrizalillo Beach, Oaxaca
Carrizalillo beach is the best in Puerto Escondido!
As it is a beach with soft waves and little current, it is the one spoilt for beginners in the practice of surfing. In the season of big waves (from March to October) perfect tubes are formed. So it is considered a very fun wave.
The atmosphere is usually much more relaxed and quiet.
Carrizalillo Beach is located west of Puerto Escondido. To get to this beautiful beach you have to walk down 168 steps.
Come with us and have the opportunity to discover the Carrizalillo beach during our trip to the Sur East of Mexico!
Discover also our other trips HERE.
.
.
.
Now that you know the best hidden beaches in Mexico, we advise you to read this article to know the best places to travel with your friends in Mexico!